My 2019 Word is @#$%&* (+ 5 tips for doing a Word Journal)
Before we get to the big reveal of my feisty word for 2019, I want to share how I actually DO my One Little Word Journal every year.
First and foremost, I keep the process simple. The most simple way is to pick a word for the year and be done with it.
I took that approach last year, and well, I thought about RELEASE a bit, but it wasn't visible to me, and I didn't have as profound an experience as I've had in the past seven years with…
enough, compassion, nourish, intentional, rest, and notice.
Yep, I'm going on my eighth year of doing OLW journals.
For seven of those years, I signed up for Ali Edwards One Little Word Journal Course - I'm not an affiliate - I just love the prompts that arrive in my inbox on the first of each month. It helps me get good and focused on my word.
Last year, since I noticed that many of the monthly prompts repeat from year to year, I decided, "Heck, I don't need to shell out $24 bucks again. I can just look back at my old journals." That kinda worked, but long story short, I bought the course again this year, and I'm glad for the process and adventure ahead with my fun word!
Alil Edwards is a scrapbooking, journaling, woman extraordinaire.
I'm more like here are my scrapbooking hacks that would make all those ladies with lovely page spreads and stickers and gadgets shudder.
I get inspired by Ali's suggestions, but I do my own thing (which is what Ali says you should do anyway).
So here's what's ahead in this photo-heavy post:
Kinds of journals I like for OLW

How I do my covers

How I do my monthly divider decorations

Stuff I spend money on, or create in addition to my journals

Tips for keeping it simple
And, finally…the big reveal of this year's word - oh la la. Let's get to it.
#1 Kinds of Journals I Like
For OLW, I like journals that are cheap and forgiving — like my men - I just couldn't resist that one - forgive me!
Anyway, what I really mean by forgiving is journals that allow me to add and remove pages as I like - especially when I mess up.
Size: 8 1/2 by 5 1/2.
Filled with regular copy paper.
Card stock front and back with lamination on the cover.
Same Thing,
but Horizontal
Purchased with Rings and Four Dividers
Purchased pack of 6 1/2 by 4 1/2 filler card stock pages for inside.
Cover is sturdy cardboard.
Yeah, Michael's coupons.
Same Thing,
but Rings on the Side and Six Dividers.
Must purchase special 8 1/2 by 5 1/2 filler paper.
Comes in different sizes and colors.
#2 How I Do My Covers
I stick stuff on, glue stuff on, or do Zentangle doodles, and then write my word and the year somewhere.
This year, since my word is kinda feisty, I might keep the cover blank. How is that for simple?
#3 How I Do Monthly Dividers
Zentangle with Spaces for Month Labels
I made a bunch of copies of this Zentangle. Then, I just filled in the month and glued it in my journal. Lately, I don't spend a lot of time doing a different divider for each month.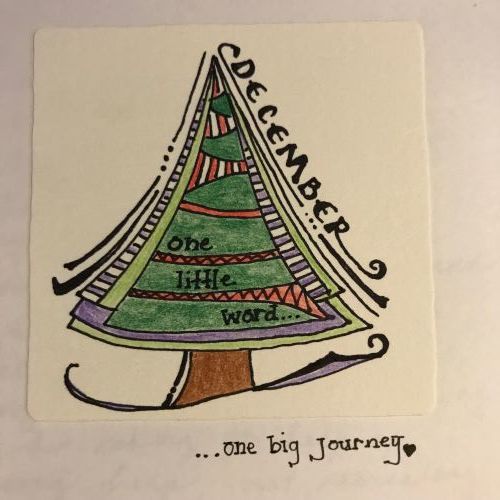 In this journal, I did a different Zentangle for each month as they were thematically related to the month. I also checked out lettering boards on Pinterest.
These are my daughter's crisscrossed hands, and then I did Zentangle doodles between each space. I made 12 copies of the reduced image, slapped it on a piece of black construction paper backing, and glued it all in my journal. Pinterest inspired my lettering.
Zentangle Border with Month in the Middle
Reduced and Copied Coloring Page
I love coloring, especially when I've figured out a way to use all those coloring pages when I'm done. I just made reduced copies and used them for my OLW monthly dividers. Oh la la.
This is a fun one. I used a big vellum envelope as my section dividers. I used a label-maker to add a month sticker, and then I had a place for all the misc. things that go with my word each month.
Punched Hearts and Month Tabs
Here's what I'm doing in my OLW journal this year. I purchased Erin Condren month tab stickers. Then, I just punched out some hearts. The month determines how many hearts go on each page. Three here means it's March!
Close-up of the Month Tabs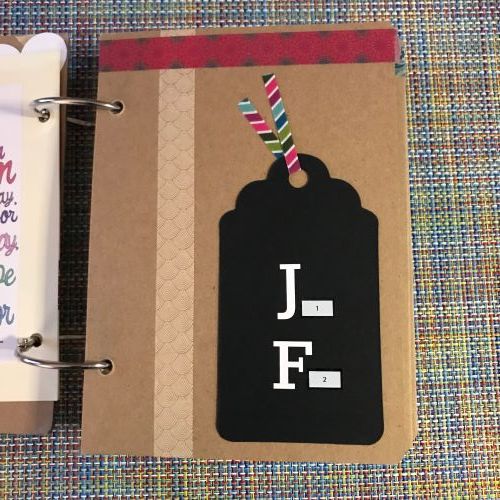 For my purchased journals that only have four or six divider pages, I just added stickers that represent two or three months at a time.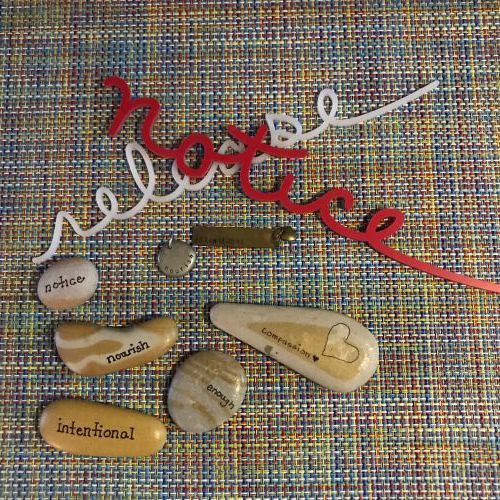 Every year, I order plastic words from Colleen. They are recycled and she sends them with tons of love. I also write my word on rocks with a Sharpie and then apply two coats of ModPodge to make them shine. I keep the rocks in a bowl. In years past, I've ordered necklace charms with my word, too.
This was one of my daughter's words when she was younger.
You get a little tag, too.
Heart Puncher, Community Paper, and Glue!
You can get these paper punchers in all sorts of shapes. I'm partial to hearts. Before big projects, I paint tons of construction paper with all sorts of colors (using school paints and/or watercolors). It's like being back in preschool. I cup them up into manageable sizes, put them in a box, and use them whenever the spirit moves me.
These are handy when you've printed something off the computer and the paper is bigger than your journal. Just fold'em into an envelope and you're good to go.
Angie Grace Coloring Books
#5 Tips
Keep it simple.

Use supplies you already have at home.

If you're doing monthly prompts, don't worry about missing a month. Often, on vacations, I have a little crafting/journaling morning when I can catch up. I look forward to it.

Use your copier and/or print images off the internet so you can repeat art images in each of your monthly dividers.

Don't do any crafty art at all. Just write what your word is meaning to you in the moment.

To keep the writing simple, just Google your word and see what comes up. Go on Pinterest Boards. Look for quotes and books with your word. (And set a timer since you'll be blown away at how much you'll find!).

Or, just put your word at the top of a page and freewrite for ten minutes once a month. What comes out is what comes out. Then, at the end of the year, just reread those pages and seek patterns. You'll be amazed.
And now…the big reveal!
My Word for 2019 is…
Badass!
Anyone guess it? Hope you're not offended by my word, but please know that I'm going with the new and updated definition of this word.
At first, I was leaning toward convicted and determined, but both of them sounded like I'd be white-knuckling my way through 2019. I wanted to inject some spirit into my 2019 OLW.
To me, being a badass means…
doing what what I say I'm going to do
even when it's hard
and I don't want to.
Of course, when I was doing research about definitions for badass, I also read that the first rule of being a badass is NOT saying you're a badass. Plus, no fanfare. Just get busy doing what I say I'm going to do — and do it under the radar.
So, my 2019 One Little Word will be our little secret, OK? After all, I have to maintain my rep as a respectable writing teacher.
But, in the meantime, the forecast in Palos Verdes today is 100% chance of rain…and being a badass!
Let me know what your word is for this year. I promise, this is a magical process, and I hope you join me on the journey.
Always writing,
Lorrie